AED Maintenance - Our Method
The structural maintenance of an AED is advised by both manufacturers and the healthcare authorities. The Medisol Service Centre offers customised solutions. To ensure that all AEDs are ready for deployment, we provide fast logistics and an overview within your personal portal.
Medisol Service Centre portal
As soon as you purchase one of our maintenance plans, you will get access to the Medisol Service Centre portal. In this portal you can see an overview of all service contracts, in which all details can be found. For example, for each AED you will see when the last maintenance was performed and whether maintenance is scheduled.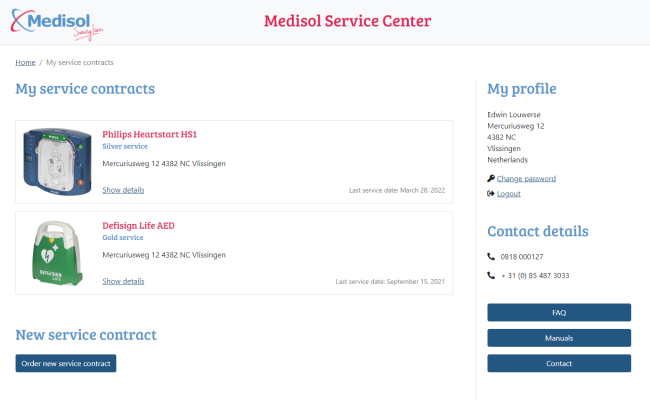 Our working method
Through the service portal we offer a full insight into planning and execution, ensuring that you are completely unburdened and thanks to the fast service, the maintenance of an AED takes very little time. Once you have chosen a maintenance plan, we will follow these steps:
1. Access service portal
You will receive an email with the login information for your personal service portal. Within the portal you will immediately see the products for which you have a maintenance plan. From this moment on all actions and details known about the maintenance of the AED are stored within your portal.
2. Scheduling maintenance
Whenever it is necessary to schedule maintenance for your AED, you can select a convenient time to schedule us to pick up your AED and (Gold and Platinum maintenance plans only) have a loan AED delivered to you. Before the pick-up of your AED, you will receive instructions on how to disconnect the AED and how to install the loan AED (Gold and Platinum maintenance plans only ).
3. Confirmation of maintenance schedule
After scheduling maintenance, the request is confirmed within the portal. Within the portal, you can follow a timeline per contract, of all actions that are planned, executed and completed.
4. AED maintenance
The transporter has picked up the AED and (Gold and Platinum maintenance plans) has delivered the loan AED. Your AED is prepared for maintenance in our Service Centre.
5. AED ready for use
After maintenance of your AED, the AED will be returned to you as quickly as possible. Once you have received the AED you can disconnect the (Gold and Platinum maintenance plan) loan AED and reattach your AED.
6. Returning the (Gold and Platinum maintenance plan) loan AED
If you have a Gold or Platinum maintenance plan, you will receive a loan AED during the maintenance period. After your AED has been returned from maintenance, we will arrange for the loan AED to be picked up from you.